2022 Food and Ag: Talent Leadership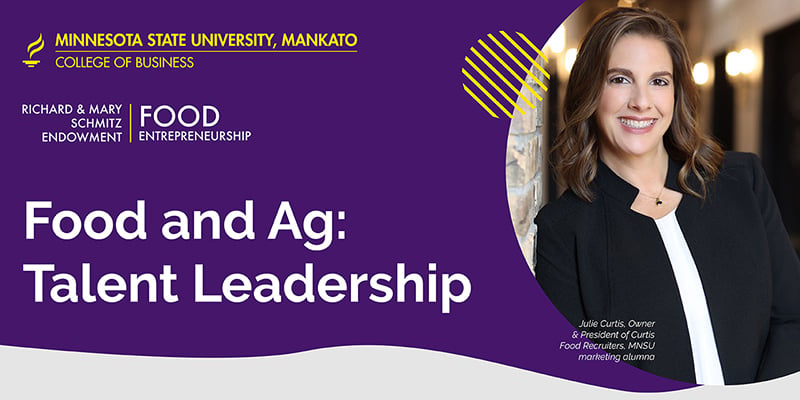 The 2022 Richard Schmitz Food Entrepreneurship Lecture Series, Food and Ag: Talent Leadership, featured Julie Curtis, owner and President of Curtis Food Recruiters.
Julie is a food and beverage industry professional with over twenty years of executive recruitment experience, as well as a Minnesota State University, Mankato marketing alumna. In 2006, she started her own company, Curtis Food Recruiters, and has recruited top level talent ever since. Her company was listed on Forbes' America's Best Executive Recruiting Firms and MSPBJ's Twin Cities Largest Executive Search Firms in 2021.
Julie and Dr. Shane Bowyer sat down for a fireside chat-style discussion about talent acquisition and diversifying the food and agriculture industry.
---
Listen to the KMSU podcast featuring Julie Curtis- March 23, 2022
Watch the March 23, 2022 fireside chat video here
---
Thank you to MN Valley Business Magazine and the Free Press Media for in-kind sponsorship of this event.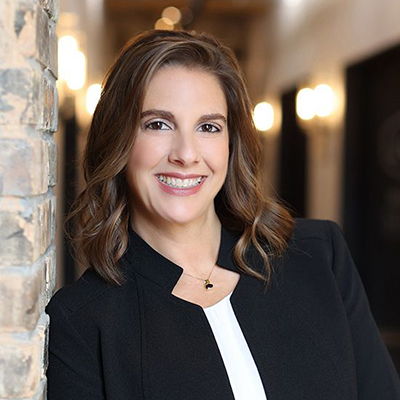 Owner & President, Curtis Food Recruiters
Read More
Read Less
Julie Curtis, President of Curtis Food Recruiters, is a savvy food and beverage industry professional with over twenty years of executive recruitment experience. Her expertise includes sourcing, recruiting, and assessment of diverse food industry professionals. Julie's philosophy is to match the right person to the right job by clearly understanding what is required to be successful in that position along with the cultural contribution each clients needs. As VP of Recruitment, Julie began her recruiting career with a boutique search firm, Agri-Business Services, servicing food manufacturing, grocery and retail-based Fortune 500 Companies. In 2002, she joined Nash Finch Company, a Fortune 500 grocery retailer and wholesaler. As the Head of Talent Acquisition, she led recruiting for corporate and field including; diversity recruitment, AAP/OFCCP, workforce planning, organizational development, employee relations and HR strategy. Seeing a need for a recruitment firm that focused solely on the food and beverage industry, Julie started Executive Resource Solutions, the Parent company of Curtis Food Recruiters in 2006. This opportunity gave her the ability to combine her merchandising and supply chain knowledge with her food industry executive recruitment and corporate talent acquisition experience. Julie earned her Bachelor of Science degree from Minnesota State University in Business Administration, and completed her Professional in Human Resources certification in 2005. She is inspired by her husband, their two children and their three dogs. In her free time, Julie likes to read, travel, and spend her time volunteering.
Learn more about Curtis Food Recruiters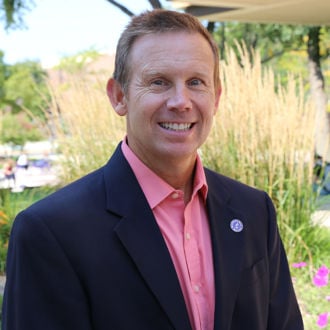 Dr. Shane Bowyer is the Director of the Center for Innovation & Entrepreneurship and the Director of the AgriBusiness & Food Innovation Program.
Full Story +
Show Less –
He is an assistant professor of Management and teaches in the Integrated Business Experience program. Shane has recently helped develop a new agribusiness major, minor and the Henze Ag Innovators Leadership Development program.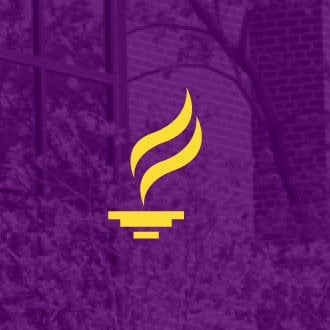 Richard R Schmitz grew up in small town of Brewster, Minnesota and was the first in his family to attend college. He graduated in 1964 from Minnesota State Mankato with a B.S. in Accounting.
Read more
Read less
He used his business and accounting background in the Food Retailing Business with Red Owl Stores in Hopkins, Minnesota as an auditor.
In 1973 purchased a retail food store in Olivia, Minnesota. Acquired and ran a total of five stores in 1985 in Duluth, Minnesota and Hudson, Wisconsin. In 2003 owned two large Food Stores in Hudson and Wausau, Wisconsin and sold them and retired from the business.
His business was recognized as Business of the Year in Hudson, Wisconsin in 1992.
He was recognized as a Distinguished Alumni of Minnesota State University, Mankato with the Harold J Fitterer Service Award in 2002.
He has served as Chamber of Commerce President in Olivia, Minnesota in 1978, Chairman of Wisconsin Grocers Association 2000 and was the President of the Minnesota State Mankato Foundation Board.