College faculty and staff work hard to make your experience successful. Numerous resources, outlined below, are available to help students, from technology guides to advice about building a routine and connecting with professors and University resources available virtually.
What equipment do I need for my classes?
Functioning computer


It can seem obvious and you may already have one, but a functioning computer or a tablet is a must. Whether it is a desktop or a laptop, most any computer will do and allow you to be successful in your online course. The college recommends your laptop or desktop computer meets the same standards as students taking classes on campus.
Good Internet connection


The next thing you absolutely need is a good Internet connection. A video conversation that cuts off all the time, where you can only hear every other word is not ideal for an online course. It can easily become the reason you lose your motivation to learn.
A high speed internet connection is recommended. You will have smooth video and audio interactions with your course and this will help ensure a positive online learning experience. Recommended is a minimum download speed (Mbps) of 5 MB. To know if your Internet connection is enough, you can do a test online to check your speed at https://speed.measurementlab.net/ or directly call your Internet supplier.
It is possible that your connection is slow or you don't have access to a sufficient internet connection. If that's the case, there are other available options, such as coffee shops, coworking spaces, individual rooms in libraries etc… Where you can easily have access to the Internet without connectivity issues. Be careful! If you choose a public space, make sure you don't disturb the rest of the people in the place, and they don't disturb you during the class.
Headphones and Microphone

If you want the best audio to listen or communicate during the online session, make sure you have a good set of headphones and microphone to listen effectively, express yourself and ask questions.
Most any inexpensive headphones will work better than the built in speakers in a laptop or computer. Investing in a quality set of noise canceling headphones will give you the best experience during your online session.
A microphone functioning properly is considered mandatory. If the one on your laptop does not work, use a headset. It is quite affordable and ideal. If you take multiple online classes, you will use it more than once and you can get a higher quality microphone.

Webcam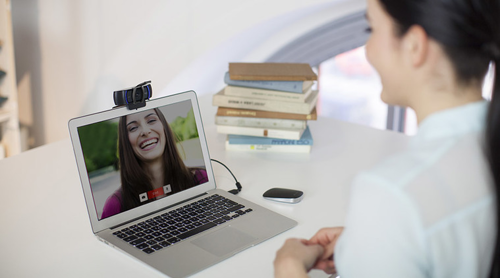 Finally, being able to hear each other is important, but having a visual presence is not mandatory but is highly recommended. It allows for a greater connection in the course and makes it easier to develop a real human connection. In addition, your instructor and other students will be able to understand you better and allow you to show things physically.
Most recent computers already have built in webcams within the device. But if yours does not work or if your computer does not have one, then you should get a webcam to add on your device. The best webcams are the Logitechs because they are cheap and offer great visual quality. It is a small investment that will improve the quality of your online learning experience.
Create YOUR Zoom account.
Everyone has access to Zoom, a videoconferencing service, for students, faculty and staff. This allows users to interact remotely with a video connection, and can be used for classes, advising sessions and other meetings. Instructions for creating your Zoom account, and downloading Zoom to your computer, are available here: https://mankato.mnsu.edu/it-solutions/help-support/zoom-getting-started/
Make the best of your Zoom call with tips to Improving Your Zoom Connection
Start building a routine.
One of the most important things students can do is build structure for themselves as they transition to online classes.
Many classes are asynchronous – or available anytime – in order to accommodate students in different time zones. That change, along with other factors like other siblings home from school or parents and guardians working from home, can add a lot of uncertainty to previously set schedules.
Plan your time: Choose your preferred tool for keeping track of your to-do list, due dates, and schedule. It does not matter if it is a mobile app, wall calendar, or bound paper agenda. The important thing is that it is a format that you will actually use.
Discuss schedules, boundaries, and expectations with your family or roommates: Will you sometimes need quiet space so that you can engage in online class discussions using a speaker and microphone? Your family or roommates will be better able to support your learning if they are aware of your needs.
Prepare your state of mind: Do you need quiet space to engage in online classes? If you cannot escape background noise in your home, wear headphones and mute the microphone as needed. Keep a note card handy stating that class is in session, and make it visible to others in your living space.
Digital Communications for Remote Learners.
Email communication: When we have the opportunity to talk readily with others in person, we sometimes underestimate the importance of clear and concise email communication. In addition, if you usually prefer to speak with others in person instead of via online means, it may take you some time to find your voice in platforms such as email. Below are some quick tips to have more effective email communication.
Remember Tone.
In addition to sharing information, emails also convey tone that can either add or detract from your message. Adopting some structure in your messages can provide clarity to the reader. Consider utilizing the following:

Introductions (e.g., Hi John, ; Dear Prof. Nguyen, according to the addressee's preferred level of formality)
Appropriate punctuation (e.g., avoid run-on sentences)
Avoid using "text talk" and shorthand
Make clear, respectful requests: When composing your message, consider that the reader may not share your concerns or urgency. Be mindful of how you make requests and convey your expectations.
Sign offs. At the end of your message, include a sign off such as, "Best", "Take care", or something similar to signal the end of your email.
Keep emails concise.
The subject of your email should be descriptive and brief (e.g., "Question about Homework 3").
Longer emails are difficult to synthesize and can delay your response.
Effective emails should not be longer than a paragraph or so and should quickly get to the point.
If you are having trouble keeping your email brief, consider arranging a phone or video call.
Before sending, check that your email contains: your name, a greeting, the reason for the message, appropriate language and punctuation, and a clear closing.
Timing
Allow at least 24 business hours for a response to your email. Please refrain from sending follow-up emails within this time-frame. If you must send a follow-up email, do so as a reply that includes the original email. This is not rude; it will help the addressee avoid answering you with the same information twice.
If your email contains urgent information, try to call or send a direct message instead.
Remember that on-Grounds resources are still available virtually.
Resources including Libraries; Writing Center; the Career Center; the Student Disability Access Center; Counseling and Psychological Services and more are open and operating and remain available to students through email, phone or virtual meetings.
The Career Development Center, for example, is scheduling virtual or phone appointments, both same-day or for future dates. The Writing Center is offering real-time online consultations, as well as e-tutoring sessions allowing students to submit questions and drafts for feedback.
Departments across the university are making similar adjustments to accommodate student's needs online. Check websites, call or email faculty members and staff if you have questions about accessing specific resources.
Know that the SERVICE Desk is available for technology questions.
The Service Desk is available for technology-related questions from students, faculty and staff. Priority phone support will be given for faculty or students who are in an online class or attempting to connect to one that is starting soon. If you are in an online class or trying to join one. Contact the Service Desk at https://mankato.mnsu.edu/it-solutions