Accreditation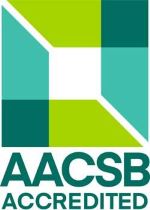 Minnesota State University, Mankato College of Business is an accredited member of AACSB International-The Association to Advance Collegiate Schools of Business.
AACSB International accreditation represents the highest standard of achievement for business schools, worldwide. Institutions that earn accreditation confirm their commitment to quality and continuous improvement through a rigorous and comprehensive peer review. AACSB International accreditation is the hallmark of excellence in management education. learn more
AACSB International accreditation assures stakeholders that business schools:
Manage resources to achieve a vibrant and relevant mission.
Advance business and management knowledge through faculty scholarship.
Provide high-caliber teaching of quality and current curricula.
Cultivate meaningful interaction between students and a qualified faculty.
Produce graduates who have achieved specified learning goals.
Assurance of Learning (AoL)
The College of Business is committed to continuous improvement in the learning process. We value excellence in teaching and learning. Learning outcomes are developed for each program. These learning outcomes are educational goals expected of all College of Business graduates in their respective programs. Learning outcomes are measured by the faculty to ensure that the stated learning outcomes are being met. The curriculum evolves and changes to reflect our commitment to making sure students meet these high standards. The assurance of learning process includes a) setting learning outcomes, b) measuring these outcomes through assessment rubrics, c) comparing student performance to established standards of success, d) making revisions as needed to the curriculum, and then e) repeating this cycle to continually monitor progress and make enhancements.
Assurance of Learning is supported by two separate College of Business Committees, the Curriculum Management Team and the Curriculum Committee. Learning outcomes are shaped by input from the entire faculty as well as input from the College of Business Advisory Council. The Curriculum Management Team is responsible for making sure that the learning outcomes are being measured throughout the curriculum. Departments meet regularly to track performance by students on learning outcomes, and faculty then work through the Curriculum Committee to make recommended course changes. This process is ongoing and designed to make continual adjustments with the ultimate goal of excellence in teaching and learning through continuous improvement
Undergraduate Student Learning Outcomes
Outcome 1: Students can demonstrate competency in professional written communications and formal oral presentations, appropriate to their discipline(s).
Outcome 2: Students can use team building and collaborative skills to accomplish group tasks.
Outcome 3: Students can analyze ethical problems in business.
Outcome 4: Students can analyze business problems utilizing information technology and research methods appropriate to their discipline(s), and then use the results in business decision making.
Outcome 5: Students can integrate and use information from different business disciplines.