#MavBiz Showcase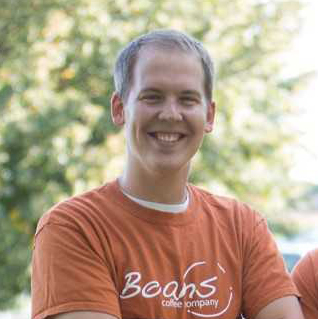 Something that began as a hobby turned into a successful business for Clay Sharkey, MBA student and co-owner of Beans Coffee Company (Beans) in Mankato, MN. "After some research, my wife and I learned we can roast coffee in popcorn poppers with a few modifications, and before we knew it, we were roasting our own coffee," Sharkey said.
Full Story +
Show Less -
During the same time, he and friend Eric Poppler (MSU-Mankato alumni, 2010) connected over their mutual dislike for the coffee served at church. The conversation lead to regular coffee roasting sessions, purely for their own use. Then when Christmas time rolled around, a friend of Sharkey asked if they would be willing to sell a bag of their roasted beans to give as a gift. This changed everything.
From this opportunity to sell a $10 bag of coffee came a lot of unforeseen challenges which resulted in the two coffee fanatics beginning their entrepreneurial coffee journey. After they realized there was a market for fresh, home-roasted coffee and people were willing to buy it, new roasting supplies became a necessity. Sharkey and Poppler upgraded to a grill from the popcorn popper and began selling their coffee at the Mankato Farmers Market.
Now that Beans had a following, they created a website for people to start ordering online, moved the business into a true roastery and started showing up in local coffee shops, co-ops and grocery stores. For those who ordered online, Beans delivers their freshly roasted coffee beans to residents around the Mankato area, and ships the coffee to further distances around the United States.
As a new business, there came growing pains and unexpected obstacles. From figuring out where to source the coffee from and bags to hold the coffee to what should be on the labels and how to take credit cards, each day came with a new challenge. Sharkey noted he's "excited to see how the skills [he] learns through the MBA program at Minnesota State University, Mankato will provide knowledge about how to think through problems and capitalize on opportunities."
In addition to being a co-owner of Beans and an MBA student in the College of Business, Sharkey also works a full-time job and has a wife and two young children at home. He realized he had the entrepreneurship bug a few years into his career and knew he wanted to create something of his own. There is no plan in the near future to run Beans full-time, but with the organic growth through community support, it's definitely not out of the question.
Clay's advice to current and future MBA students is "don't let it intimidate you because it isn't the 'right time.' If you wait for the right time, you will never do it. The projects will seem overwhelming when they are assigned, but once completed are no big deal. Remember to take it one step at a time. You don't get an MBA overnight, so there's no need to worry as if that's the case."