Big Ideas Challenge 2019 Winners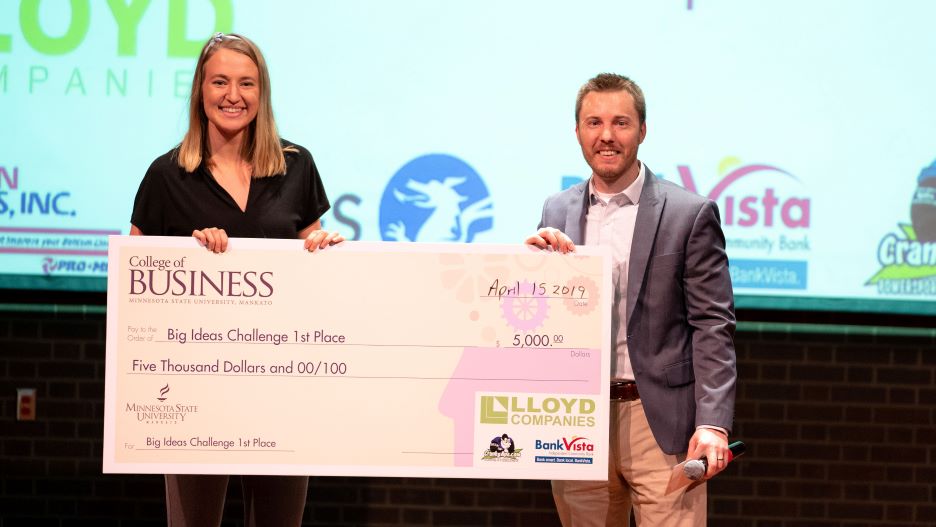 2019 was the fifth year for Big Ideas Challenge. It is run by the College of Business Center for Innovation & Entrepreneurship.
"We had seven finalists present their ideas on stage this year. That is more than we have ever done before and it was a big hit. The judges and audience were invited to ask questions after each presentation so it was a very interactive event."
Our winners for 2019:
First Place: Margaret Knier, Marketing with 2True Headbands
She advances to the semifinalist round in the student division of MNCup (the largest statewide business plan competition in the US where the Student Division prize is $30,000). 2True makes comfortable headbands in a variety of styles and patterns.
Second Place, $3000 and People's Choice, $2000: AJ Rana, Mechanical Engineering and Manik Maharjan, Civil Engineering with Hopynn
Hopynn's ride-sharing app fills a void that Uber, Lyft and cabs can't fill.
Third Place, $2000: Ben Lindquist, Mike Ganzer and Bob Pederson, Integrated Engineering, EnduraMark
Returning champs from 2018, their refillable dry erase marker reduces plastic waste in the environment.
Agriculture/Food/Beverage Division, $3000: David Bassey, Mechanical Engineering from CEED Energy
CEED Energy kits reduce the cost of generating clean energy for growing food in greenhouses.
"In the past five years, we have given away $70,000 to student start up businesses. Of the 28 presentations that have made it to the finals, 12 of those businesses are still in operation today. We have had about 100 community and alumni mentors and judges help to make this a terrific real world learning experience for our students."
The Big Ideas Challenge has been sponsored for each of the last five years by Lloyd Companies. Craig Lloyd is a 1972 graduate of Minnesota State University, Mankato. This year, the Agriculture/Food/Beverage Division prize was sponsored by All American Foods. Other generous sponsors were CrankyApe.com, BankVista and Jones Metal. The Mankato community also provided finalist prizes to help our student start ups. The top three winners received memberships to Greater Mankato Growth and all received 3 month memberships to the Mogwai Collaborative co-working space in the Hubbard Building.
We had 41 applications started, 21 that went into Round 1 for judging. A team of community, alumni and faculty review and score the round 1 applications. No names or identifying information is given to the judges, just the ideas. The highest scoring teams advance to Round 2. In Round 2, the finalists had to write a full business plan and then prepare a pitch and deliver it on stage on April 15th. The combined plan and pitch scores from our judges determined the winners of all of the prizes except for People's Choice (which was chosen by audience vote).
We encourage all students, from any major, to start thinking about THEIR Big Ideas for next year. Ideas don't have to be high tech. Your idea could be a novel or play, it could be an idea to clean up the environment, it could be something that helps people with disabilities or a service for agriculture. Join other students at the Center and get help with developing your idea so you can be on stage next year.