The College of Business is Making an Impact
Connected for Better: AACSB's Focus on Positive Societal Impact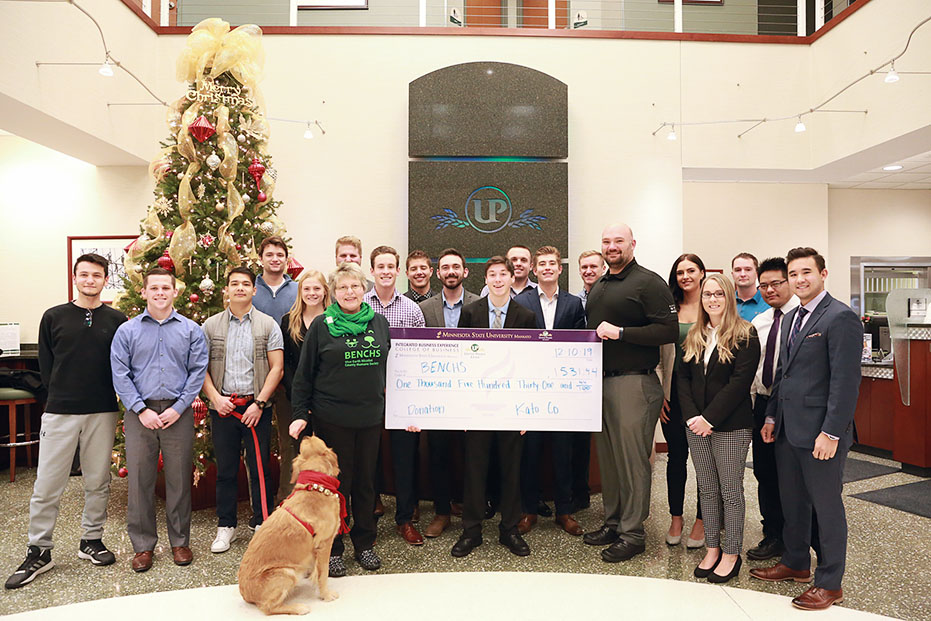 The prominent business school accreditor, AACSB International, has recently announced a renewed focus on business education's efforts towards creating positive societal impact. The Minnesota State Mankato College of Business is proud to be among the elite institutions that have achieved AACSB accreditation and we too have embraced the call to demonstrate positive societal impact.
"Demonstrating positive societal impact is a defining characteristic of a quality business school, with AACSB-accredited schools leading the way," said Caryn L. Beck-Dudley, AACSB president and CEO. "Together, our relationships will create agile and innovative partnerships among learners, within universities, and across business and government for society's greater benefit."
AACSB is leading conversations about the role of business schools as a force for good in society, a core component of its recently announced 2020 business accreditation standards, starting with a briefing paper, Connected for Better: Exploring the Positive Societal Impact of Business Schools.
HOW THE COB IS MAKING AN IMPACT THROUGH THE UNITED PRAIRIE BANK INTEGRATED BUSINESS EXPERIENCE
Overview
The United Prairie Bank Integrated Business Experience (IBE) has become a signature program in the College of Business for implementing the strategic mission of the College. The focus of the mission involves being a College of Business committed to offering real-world learning experiences while simultaneously giving back to the community. Being able to support our mission with programs such as the United Prairie Bank IBE is imperative to maintaining the esteemed AACSB accreditation held by the College.
The Program
The United Prairie Bank IBE is a 12-credit hour learning experience that combines Business Finance, Principles of Management, Principles of Marketing, and a business practicum where student companies develop and operate a business. Each cohort of students creates and manages a business as a group. Throughout the semester they organize the company, create a business plan, apply for a business loan, and manage the business. At the end of the semester all profits are donated to an organization of their choice.
Taught by a faculty team, the purpose of the United Prairie Bank IBE is to help students better understand the interdependence of the content areas studied as they apply to actual business experiences.
Contributions to our Community
Members of the United Prairie Bank IBE companies commit to serving the community by pledging an agreed upon number of volunteer hours to local non-profits. A total of 8,707 volunteer hours have been donated by IBE students since 2012. Examples of organizations that IBE students have volunteered at include: Adopt-a-Highway, American Red Cross, Backpack Food Program, Camp Patterson, Campus Kitchen, Churches, Community Clean Up, Echo Food Shelf, Feed My Starving Children, Girls on the Run 5K, History Day Minnesota, International Center, Relay for Life, and the Salvation Army. To date, a total of $84,290.60 has been donated since 2012. Additionally, in two instances private donors have matched the IBE company donation amount.
Fall 2020 Semester Companies
Deieso
Deieso is company that promotes a leisurely college lifestyle and an authentic self.
Products:
Hoodies and stickers
Proceeds will go to LEEP.
Let It Glo
Let It Glo provides products that promote positivity and inspire others through gloomy times of COVID.
Products:
Foldable Laptop Desk, Attachable Ring Light, Motivational Stickers
Proceeds will go to the ECHO Food Shelf
Minni Sota
A group of students selling cozy products for all Minnesotans to gain real-world business experience.
Products:
2-in-1 Tumbler/Koozie
4-pack bundle of wooden coasters
One-size-fits-all beanie
Proceeds go to Feeding Our Community Partners