Heather Natterstad - Spring '17
Eide Bailly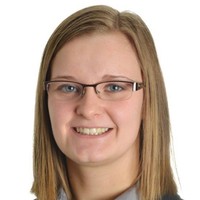 Major: Accounting
Class Level: Senior
Employer: Eide Bailly
Internship Title: Tax Intern
How did you find your internship: I found out about Eide Bailly's internships during their visit to the Accounting Club
Summary of internship responsibilities: A majority of my internship was spent preparing a variety of tax returns for clients, including individuals, partnerships, S-corporations, C-corporations, trusts, and estates. Additionally, I had the chance to work on compliance reports for banks and other various projects.
Benefits of interning: The most beneficial aspect of my internship at Eide Bailly was the variety. Throughout my internship, I worked on projects in several different industries, which gave me the chance to learn and explore the different opportunities a tax career can provide.
Challenges faced: The biggest challenge I faced was learning all the software programs and how they integrated with one another.
Recommendations for success: Get involved early. I started attending Accounting Club meetings and going to career fairs during my freshman and sophomore years at MSU. Connecting with employers early on helps you build a relationship with them, so when you are ready for an internship you have already established your connections.
Career plans after graduation: After graduation, I hope to continue working at Eide Bailly.