Ariana Diop — Spring '17
HG&K Ltd.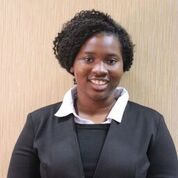 Major: Accounting
Class Level: Senior
Employer: HG&K Ltd.
Internship Title: Tax Intern
How did you find your internship: Through Handshake
Summary of internship responsibilities: I prepared individual, trust and business income tax return including C-corporations, S-corporations and partnerships. I assisted with audit, review and compilation procedure. I also helped with the write-up services and other consulting works for the clients, including the use of QuickBooks. I worked on the preparation of financial statements including assembling information needed for footnotes
Benefits of interning: I had a real experience in tax, I know more about the career path I want to take. It opened me lot of doors. I feel more confident during interviews.
Challenges faced: I had to accommodate with the real-world work environment with meetings and deadline. Find my place in the organization. I was afraid of making mistake or asking too many questions.
Recommendations for success: I would recommend to never give up, work hard and start applying for an internship as early as possible.
Career plans after graduation: I plann to apply to the master's degree in accounting to get the 150 credits and to take the CPA exam.