Rasheed Al-Arami — Spring'17
United Health Group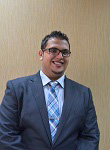 Major: Accounting
Class Level: Junior
Employer: United Health Group
Internship Title: Accounting Intern
How did you find your internship: MavJobs.com
Summary of internship responsibilities:
Maintain general ledger accounts and related activities for the production of financial statements and report

Reconcile, analyze and review general ledger accounts in preparation for month

-

end close

Prepare journal entries and review

accounting classifications, in accordance with generally-accepted accounting principles

Prepare documentation in support of external and internal audits

Perform ad hoc reporting and analysis and investigate issues providing explanations and interpretation

Analyze and prepare financial statements, including balance sheets and statements of financial position

Assist with or lead the month

-

end quarterly end close process for assigned businesses or groups
Benefits of interning:
Gain industry knowledge I won't learn anywhere else

Accumulate evidence of my abilities

Make critical professional contacts

Possibly land a full-time job
Challenges faced:
Given that summer internships are short in their nature, I think one of the possible challenges will be to adapt and integrate the ways and methods of United Health Group with my experiences. This usually takes time. Therefore, my goal is to completely understand these ways and methods as soon as I start so I can make the best out of the remaining weeks in the internship.
Recommendations for success:
Connect with people. Find people who are in your similar situations and people who have gone through the process. It helps immensely.
Career plans after graduation:
I think this internship will help me determine whether private or public accounting is for me.